PRP (platelet Rich Plasma)
Integrated Spine, Pain & Wellness
Treatments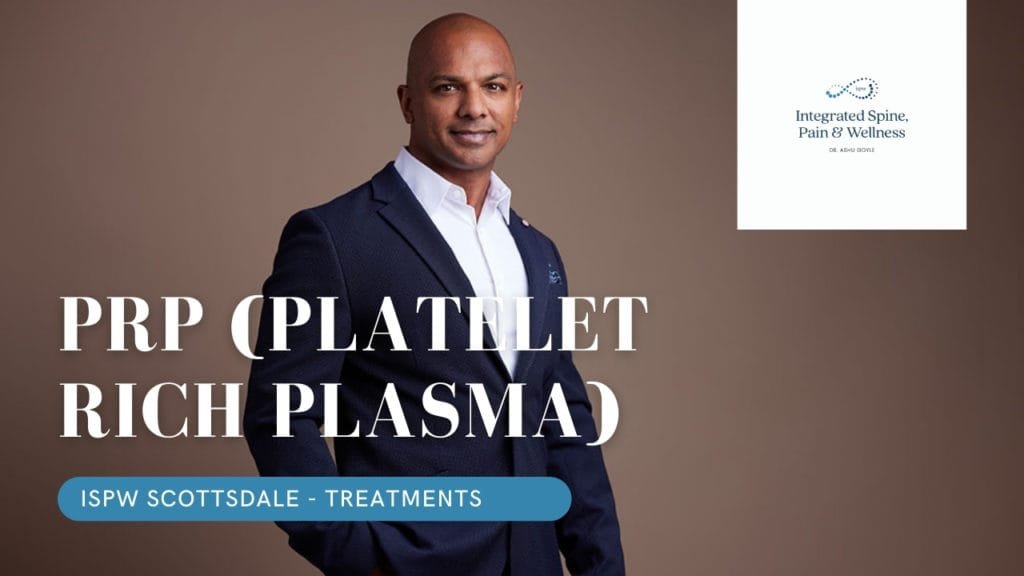 PRP (Platelet Rich Plasma)
Platelet rich plasma (PRP) therapy utilizes platelets taken from the patient's own blood to rebuild damaged tendons or cartilage.
Platelets
Platelets normally circulate within the bloodstream and are responsible for blood clotting and initiating a healing response in an acute injury. Many acute injuries do not heal adequately and can lead to chronic pain and loss of function of the injured area. Platelet rich plasma (PRP) therapy allows us to harvest the patient's own platelets and re-inject those platelets into the site of the injury to initiate healing and improvement of function. This is typically done under image guidance such as ultrasound and/or fluoroscopy.
As a result of the procedure, the damaged tissue begins to heal. PRP has been successful in not only relieving pain, but also in encouraging the healing process.
Back & Neck Pain
Golfer's Elbow
Osteoarthritis of the Knee, Hip & Shoulder
Tennis Elbow
Joint Injuries
Ligament, Cartilage, & Tendon Injuries
The Injection Procedure
Platelet-rich plasma therapy and regenerative medicine injections are done at our office and take about an hour. Patients return home the same day and are often able to work the following day.
GET THE NEWSLETTER
Dr. Goyle's Pain Perspective
Learn about regenerative medicine (stem cells) as well as nutrition therapy and lifestyle recommendations to help treat acute and chronic pain conditions.
SUBSCRIBE TODAY
ISPW SCOTTSDALE - TREATMENTS
INTEGRATED SPINE, PAIN AND WELLNESS (ISPW)
Contact
Please contact Integrated Spine, Pain and Wellness (ISPW) to schedule a consultation.
Dr. Goyle's Pain Perspective
My mission is to restore and revive the whole body through non-narcotic, minimally invasive modalities that empower patients to experience life at their optimal level.