Dr. Ashu Goyle was recently featured on So Scottsdale Magazine under the Men to Watch (M2W) amongst other of Scottsdale's business. So Scottsdale! is a leading luxury lifestyle magazine for the Scottsdale and Paradise Valley areas in Arizona.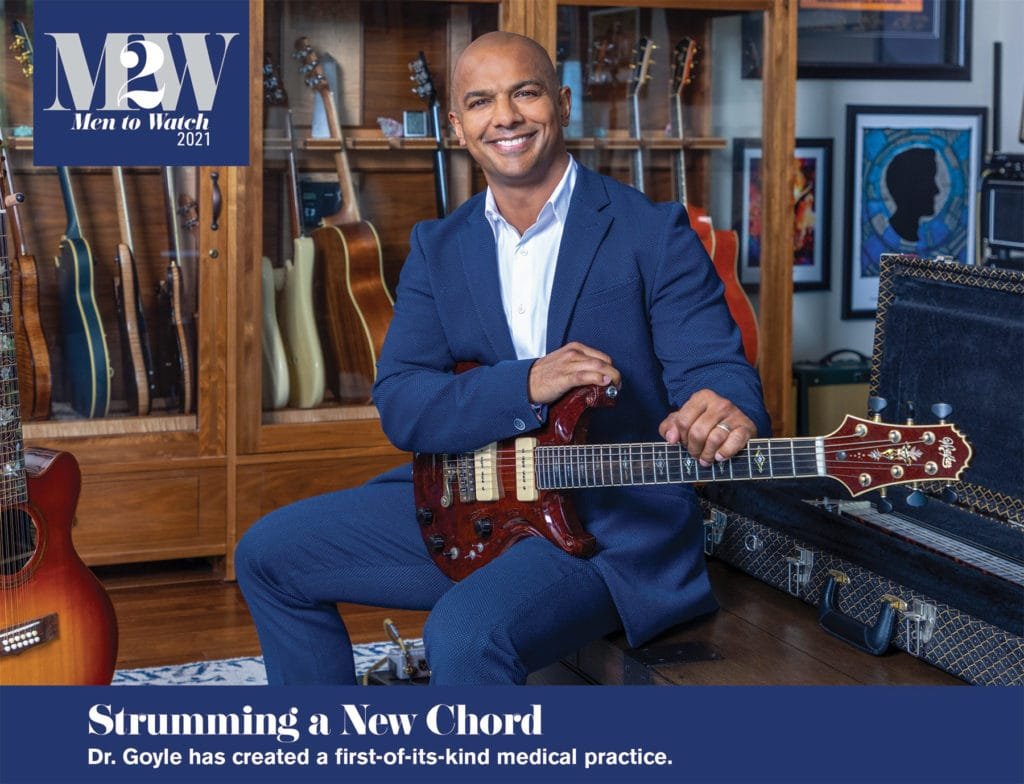 Below is the Article from So Scottsdale. You can read it online here.
STRUMMING A NEW CORD – Dr. Ashu Goyle has created a First-of-Its-Kind Medical Practice
Ashu Goyle treats acute and chronic pain using a multimodal approach. He blends traditional medical treatments with diet and lifestyle plans and alternative therapies to empower patients to achieve the best quality of life. Dr. Goyle's practice, Integrated Spine, Pain, and Wellness combines cutting-edge interventional treatments and regenerative and aesthetic medicine in a community that is essentially opioid-free. Having witnessed how the opioid epidemic devastated families and communities, he is determined to provide effective non-narcotic treatments.
At Integrated Spine, Pain, and Wellness, Dr. Goyle sees patients from a variety of lifestyles dealing with everything from sports injuries to normal wear and tear discomfort. His practice offers minimally invasive, non-surgical treatments while maintaining the goal of patients regaining prior levels of function. "My practice takes a fresh and comprehensive approach to helping people return to the healthy and active lifestyles they desire," he shares.
Modalities include minimally invasive spine and joint procedures, supplement testing and guidance, and diet and lifestyle counseling. Many of his patients come to him seeking alternatives to traditional medications and procedures. "I believe that when people are living with acute or chronic pain, they may lose a part of themselves and overtime this adversely affects their wellbeing and overall
quality of life," Goyle says.
And Dr. Goyle is involved in treatment from start to finish with the exception of aesthetic treatments. But rest assured, he selected the best aesthetician, his wife, for those treatments. Afterall, when you look good, you feel good.
Dr. Goyle treats patients as if they are family. He believes in developing long-term connections and it's why he left corporate medicine to develop fresh, comprehensive individualized treatment plans for clients.
"My passion for medicine grew out of my passion for music," he says. The doctor taught himself to play guitar at only thirteen years old, having grown up with his parents exposing him and his sister to several different genres. While volunteering at a local hospital his freshman year of college, Dr. Goyle would play guitar for patients for several hours. For many patients, the small concerts provided a much-needed respite from intense treatments. "I believe in the healing power of music," he shares.
The Ohio native completed medical school in his home state; followed by residency and fellowship training at the world-renowned Cleveland Clinic.
He received double-board certification in Anesthesiology and Pain Medicine and now resides in Scottsdale with his biggest inspiration – his wife Nicolle, and their two very loved puppies.
The mission of ISPW is to deliver compassionate, ethical, individualized patient-centered care based on integrity, authenticity and empathy. We aim to empower the patient with a better quality of life using innovative techniques, complementary and alternative modalities, and evidence-based medicine.
This practice is committed to delivering personalized care and evidence-based treatments to help decrease patients' pain and suffering. ISPW offers cutting-edge regenerative medicine and regenerative therapies not only for painful conditions but also as part of our aesthetic medicine program. Dr. Goyle has been practicing interventional pain medicine in Scottsdale, Arizona since 2008.
At ISPW Dr.Goyle offers a comprehensive approach to treating Chronic Pain by identifying the root cause of the issue instead of just the symptom. Contact ISPW at www.ispwscottsdale.com or 480-660-8823 7425 E Shea Blvd. Suite 102 Scottsdale, AZ 85260.